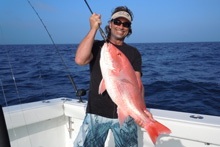 The reefs and wrecks which dot the waters surrounding Key West are prime locations for bottom fishing. Aboard the SOUTHPAW, your crew is expert at producing exciting bottom fishing action. A day of Key West bottom fishing begins with your Captain making a decision about which location to anchor. Your Captain may choose almost any depth of water from as shallow as 20 ft to as deep as 250 ft.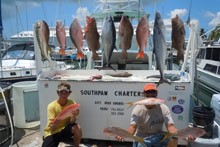 To maximize success, the boat must be positioned with precision. It is up to the skill of the Captain and crew to figure out the effects of wind and current so that the boat ends up sitting just right. Once anchored, your crew will deploy a large meshed chum bag filled with a 25-pound block of frozen ground fish. A steady stream of chum will begin issuing from this bag. Additionally, your crew may toss "sand balls" consisting of a mixture of ground fish, masonry sand and rolled oats which sink rapidly to the bottom.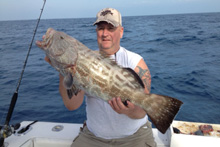 Chunks of cut bait and handfuls of live minnows complete the chumming ritual. Proper chumming stimulates all types of fish into a feeding frenzy. For the best success with bottom fishing in Key West, your crew will use a variety of live baits as well as cut baits to produce bites. Some of your lines will have an egg sinker weight attached which is sufficient to keep your bait on the bottom and your line nearly vertical.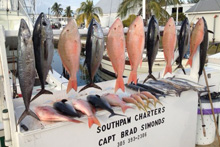 Baits fished in this manner often produce Grouper, Mutton Snapper, Amberjack, and King Mackerel. You will also be fishing lines with little or no weight that are drifted out behind the boat with the current. These lines sink slowly and produce Yellowtail Snapper, Grey Snapper, Mutton Snapper, Cero and King Mackerel, various types of Jacks and even fish which you associate with trolling such as Sailfish, Tuna, and Wahoo.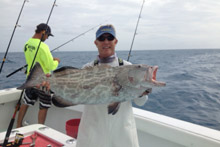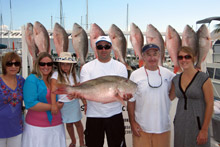 A day of bottom fishing is exciting for the sheer quantity and the variety of species caught, and because it is highly participatory. You will be actively drifting a line or holding the grouper rod. It's up to you to feel the bite and set the hook. Bottom fish are powerful fighters; bringing one successfully to boat side is a real accomplishment. Enjoying a meal of fresh caught bottom fish is a great reward for an exciting day of Key West bottom fishing.