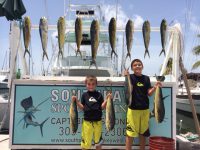 A good introduction to fishing can lead a child into a passionate hobby which will provide a lifetime of angling enjoyment. Key West is an ideal location to get children started on that path because it offers very short runs to the fishing grounds, beautiful clear water filled with marine life and a tremendous variety of game fish to suit every age and skill level.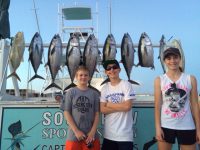 Aboard the SOUTHPAW we are adept at tailoring fishing trips to thoroughly engage young anglers. We find that children aged 6-7 are ready for this experience. Children have short attention spans so producing action is of paramount importance. On the SOUTHPAW we can guarantee that your youngsters will catch lots of fish using size appropriate rods and reels which they can handle themselves. A half day outing is ideal for young children.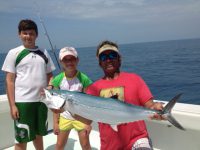 For teenagers we can structure a more challenging trip involving larger fish which pull hard and are exciting to catch. If you are tired of your older children fixating on their electronic devices, we suggest a fishing trip aboard the SOUTHPAW as the perfect antidote. Out in the Key West marine environment even the most jaded teen can gain an appreciation for the wonders of nature and the thrill of large and plentiful fish.